The eSign reminder is a compelling in-app alert prompting producers to sign open-grain contracts.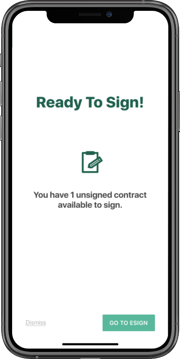 Overlaying and temporarily disabling the parent mobile screen, this friendly message is triggered for individual accounts whenever a contract remains unsigned for over 72 hours, encouraging the producer to sign his/her open contract(s).

Your producer has the option to dismiss the message and return to the normal home screen experience or to view their eSign document and take action on those forgotten opportunities.
---
Esign Reminder FAQ

How does timing work for displaying the reminder?
When a producer receives a new eSign document we "start the clock" on the reminder.

If that eSign document remains unsigned for three days, we trigger the reminder.
What happens if another eSign contract is created while the previous contract remains unsigned?
If another new document is created before the initial three days pass, the reminder is delayed an additional three days.
How are you defining how long a day is?
We consider a day to be a full 24-hour period. So if a document is created on March 1 at 10:00 am, the earliest the reminder will be seen would be March 4 at 10:00 am.

What if it has been more than three days since the producer logged into the app? Will they miss my reminder?
No! They'll still get your reminder, regardless of how long they've been inactive in your app (provided it's been longer than three days).

What happens if they dismiss the reminder?
If the producer dismisses the reminder - and his/her documents continue to go unsigned - it will be another three days at a minimum before we remind them again. They will receive the reminder two more times, each at 72-hour (three-day) intervals. That means documents that are potentially several months/years old will trigger the reminder.
Are these push notifications?

No, this is a pop-up in the app and does not generate a notification.

If a producer hasn't been logged in for four days, will they get all three reminders or just one?

Just one. The producer will not get a stack of notifications from contracts that went unsigned beyond the nine-day period.